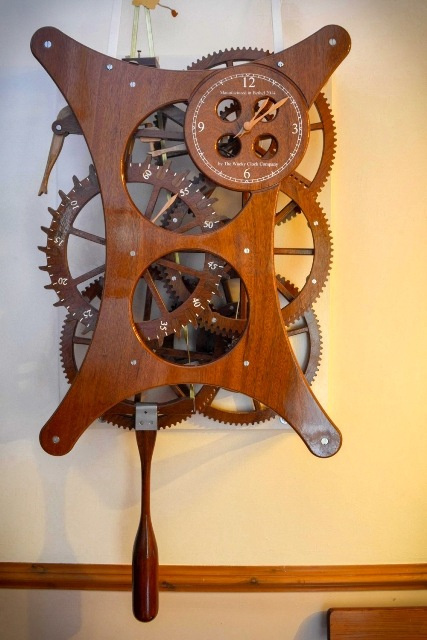 A pendulum clock is a clock that uses a weight and swinging pendulum to keep time. Originally invented by John Harrison in 1713 these clocks use a grasshopper escapement mechanism.
Our wooden pendulum clocks are designed and made by us at Classic Sailboats Ltd.

Using our own CNC router and cutting all the components here in Bethel, this really is a one of a kind piece of furniture. Hand finished and assembled by the team, the clock to the left is made from mahogany plywood with a glossy varnish finish.
This impressive clock is wound to keep accurate time. It is imposing and striking, measuring 3 1/2' in height by 2' in width, and has a beautiful resonating ticking sound.
SEEN ONE BEFORE . . . ??
The clock centre picture below is owned and displayed in the Sea Shanty restaurant in Trearddur Bay. Although similar in mechanics, size and materials, their clock is finished in wax and has the added feature of a sledge hammer pendulum and an anchor as the weight.
,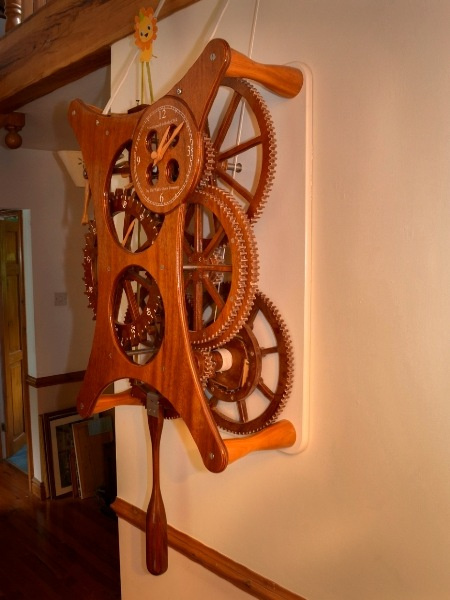 These clocks are handmade individual pieces, so are made to order and not kept in stock.
This makes each clock one of a kind and personnal to the customer with each one different in their own special way.
Prices start at £6,500 (not including mechanism weight, delivery or fitting)
If you are interested in one, please email your interest to John@classicsailboats.co.uk